Virgin Atlantic Credit Card - My reward voucher is missing Follow
Firstly please check your Virgin Atlantic Flying Club account to ensure your reward is not showing in your account
To do this follow the details below:
Log into your

Flying Club account

(not your credit card account)

Select 'My Account'

Go to the Activity tab and click to see a list of your activity

Scroll down to below your recent transactions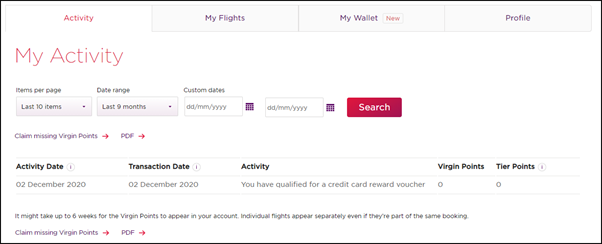 If you still feel you are missing a reward you would need to call the Virgin Atlantic Flying Club on +44 (0)344 412 2414
You can also see if a voucher has been awarded by checking the activity of your Virgin Red account, providing you have linked your Flying Club account to your Virgin Red account. Go to the "Account" tab and select "Activity". If you have been awarded a voucher you will see an entry that says "You have qualified for a credit card reward voucher" with a value of zero points.